People I love and support- Moussa Sanogo
Coming to Villa di Geggiano – our new Resident Artist – the talented Moussa Sanogo. Moussa has exhibited internationally often in collaboration with artists such as Shepard Fairey, Banksy, Karen Bystedt, Retna and many more. Listed in the 'Street Art Fair International' top 100 Street Artists' exhibiting in LA.

I feel truly blessed working with such talented and inspiring creatives every day!
Thank you VdiG Team
Thursday Vodka Society Halloween Party at Villa di Geggiano
Makeup & Hair: Hamilton Stansfield
Photography: Magdalena Frackowiak 
People I love and support-Michael Harris
'Stag Heads'
Michael has cleverly injected innovative colour with design. The Antlers used are ethically sourced and the wood selected from fallen trees locally, each piece is hand crafted with these contrasting materials, captivating the viewer.
A selection of Michael's work may be viewed throughout Villa di Geggiano's
'Main Dining', 'Bar' and 'Lounge'…
All inquiries contact ilona@villadigeggiano.co.uk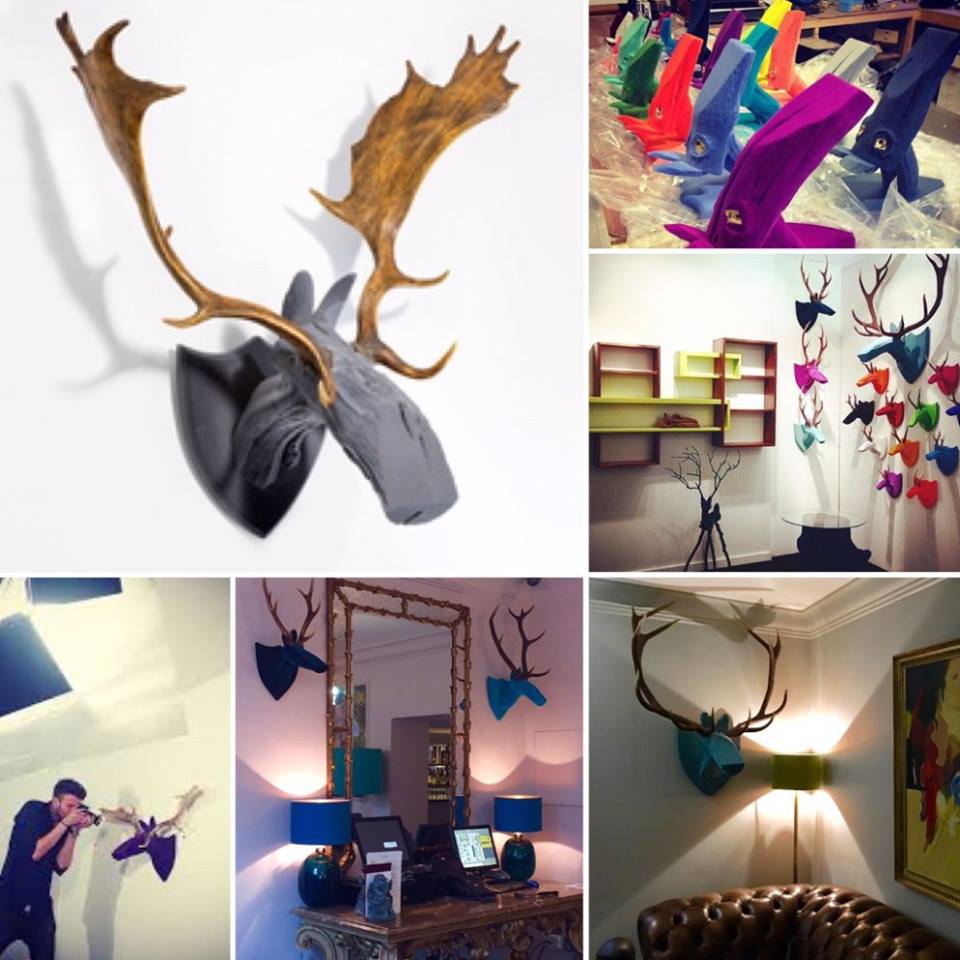 People I love and support – TAY JEWELLERY
Tay jewellery, is a range of bold and beautiful jewellery, hand crafted using large semi- precious stones and created by skilled artisans with an imagination unencumbered by modern trends.
Named after its founders, Tamara and Jay, the design duo individually select dazzling stones which are set in gold plated sterling silver. Made in their exotic Sri Lankan workshop, eclectic gems such as Kyanite, Aquamarine and White Quartz Geodes are set in a mix of classic and modern settings.
Inspired by vintage pieces from the 60's and 70's, Tay jewellery makes a statement. Rock crystal necklaces, chiselled cocktail rings and stunning drop necklaces can be layered or worn individually and transcend from day to night.
''We like to think our jewellery is the type that would have been worn at glamorous and bohemian pool side parties photographed by the legendary Slim Aarons.'
People I love and support – NIC PARNELL
People I love and support – ROBERT FRY
Villa di Geggiano, Siena, Italy
Villa di Geggiano has been the family home and winery of the Bianchi Bandinelli family since 1527. Just six kilometres north-east of Siena, its façade looks out onto the enchanting hills of Chianti Classico, a region of Italy world famous for its wines, natural beauty and rich history.  Originally built in the 14th century, the Villa di Geggiano, its gardens and 18th-century decorations have been carefully renovated and restored. The Bandinelli family continue to manage the Villa and the precious surrounding vineyards, recently opening two luxury guest suites for holiday visitors wanting to savour the real Tuscan lifestyle.
http://joolzguides.com/videos/villa-di-geggiano/
Joolz Guides provides beautiful bite size videos for people visiting London who want to see places recommended by a true Londoner who has lived and breathed this amazing city his whole life.

"Stealing Beauty" (1996)
"Stealing Beauty" is a large international production directed by Bernardo Bertolucci and starring, among the best-known actors, Liv Tyler (in the role of Lucy), Jeremy Irons and Stefania Sandrelli.
In short the plot: Lucy, an American girl of 19 years, after the suicide of her mother, she was invited by his father to spend a holiday in the hills around Siena, in a community of artists and aesthetes, where the mother herself had stayed as a young man. Lucy disturb the peaceful life of the community ... for her stay will be instead a real "moment of initiation", inner and physical ...
The film has a setting totally Siena: Villa di Geggiano (Castelnuovo Berardenga),the estate of Brolio Castle (Gaiole in Chianti), in Scorgiano (Monteriggioni), Acqua Borra (Castelnuovo Berardenga). The skyline of Siena scores of the pace of days and aerial scenes of the city accompany the closing credits.